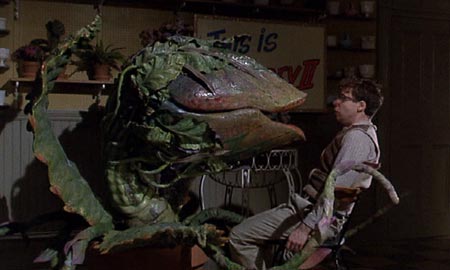 Directed by: Frank Oz
94 Minutes
Comedy, Musical
USA
IMDB Info






If anyone has seen the original 1960 Roger Corman's B-movie, you will see a dramatic difference with the two. It is odd to think that inspiration for a musical came from a film about a rundown flower shop and a flesh eating plant. Here Muppet show puppeteer Frank Oz takes the director's chair in turning the Broadway show into a wacky musical film. This one stars Ghostbuster's Rick Moranis, Ellen Green and hilarious and bright cameos from John Candy, Bill Murray and Steve Martin. For cameo appearances in films this film nails it, it is great to see stars like Murray, and Martin put into the same film. It started as a 1982 Broadway musical that sprouted into this charming comedy film. If you can laugh at the concept of it's fun filled antics and the cliché poking style, Little Shop of Horrors can be a funny and entertaining musical experience.


Rick Moranis plays nerdy unconfident Seymour Krelborn, who works in a rundown flower shop on Skid Row. While his boss (Vincent Gardenia) bemoans the lack of business, Seymour seeks a way of bringing the shop -- and himself -- fame and fortune. He purchases a strange plant from an even stranger oriental street vendor (Vincent Wong), naming the plant after his girlfriend Audrey (Ellen Greene, one of the few carry-overs from the Broadway version). Gradually, Seymour learns to his horror that "Audrey II" (given the voice of R&B performer Levi Stubbs) craves blood and flesh. With each of Audrey II's "FEEED MEEE"s, Seymour must scare up human food to satisfy the plant's appetite.




Among it's wonderful musical numbers is the film's comedy satire. The idea of the man-eating plant is grotesquely amusing and we even witness the plant swallowing someone whole. All of the wonders of "Little Shop of Horrors" are accomplished with an offhand, casual charm. The movie does not labour its jokes or insist on its virtuoso special effects, but devotes its energies to seeming unforced and delightful. The big laughs, when they come, are explosive (such as the payoff of Martin's big musical number), but the quiet romantic moments are allowed to have their coy innocence. In the film's first 10 minutes or so there is a feeling of intentional cliché moments and there is a very funny moment when they put the little plant on display and someone suddenly comes in with great interest saying "I couldn't help noticing that strange and interesting plant you have. What is it?" If anyone has seen that moment I'm sure you found it at least amusing, the way he looked was totally commercial which made it very funny.

As a musical, the songs are delightfully catchy and I am writing this review after my fourth or fifth viewing (sad I know) of the film in the year and a half I have known of it. It still holds the charm I loved about it the first time and it of course had me singing along (not literally). The acting was on the tacky comedic side and that is also it's alluring style. One thing that was in the original and not here that would have been wonderful to see was Seymour's narcotic hypochondriac of a mother. Anyone who has seen the original will agree she was a hilarious character. Steve Martin plays the sadistic and nutty dentist, who takes great pleasure in inflicting pain, in a warm and hilarious cameo. Then we have Bill Murray who takes the role of the excited dentist patient who seems to have a fetish for going to the dentist. It is yet another funny homage to the original film.

The impressive thing about the film was the technical achievement of the plant. Getting it to sing in synchronisation with over 60 puppeteers in the plant's final stage was impressive. In addition, they sped the animation of the plant up by three times in order to animate it. The film now has a little cult status as does it's original being known as 'the film made in less than a week'. As a musical comedy, the film is highly enjoyable and with fun acting, catchy tunes and a singing plant that will no doubt make you smile.
8.8/10
See the original ending here, it is very different indeed!
Images:
An image of the original ending